AICC Compliance Logo Program
AICC Compliance Logo Program
Consumers around the world can look to the AICC Compliance program to help them identify products that comply with specific AICC Guidelines and Recommendations (AGRs). These AGRs specify minimum levels of functionality and interoperability for a wide variety of CBT products.
Levels of Participation
The AICC offers two levels of participation in the Compliance Program:
You can use the Designed to AICC Guidelines logo as part of a self-regulated program where your company vouches that any product bearing this logo meets the appropriate AICC recommendations. There is a $ 50000 fee for this license application for one year.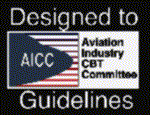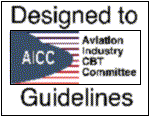 "Designed To AICC Guidelines" Logo
The AICC Certified logo is an advanced marketing program for products that have been independently tested and certified for AICC compliance by the AICC's Independent Test Labs. While there is no fee for this license application, there is a per product certification fee. This level of AICC compliance provides technology-based training purchasers with the added security of independent certification of compliance.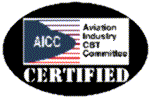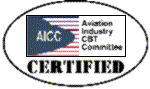 "AICC Certified" Logo
Benefits of Participation
At the AICC, we plan to convey to customers that products with the AICC logo are the ones they should look for when purchasing technology-based training solutions through press activities, promotions and other support marketing activities. As a participant in the AICC Compliance Program (at either level), you benefit from the following:
Marketing value of branded AICC compliance, as more customers worldwide look for the AICC logo to easily identify and purchase technology-based training products.

Clear guidelines (AGRs) that help you address compatibility and interoperability issues early enough in your product development cycle to avoid costly changes later.

A clear understanding of what your product(s) must do to receive one of the two AICC compliance program logos.

Automatic placement on the AICC Compliance Program Product List (as either a Compliant or Certified product), which is made available to customers and others worldwide via our Internet web site and other marketing activities.
Participating in the AICC Compliance Program is Easy
Licensing either version of the AICC logo is easy. Just download the AICC Logo License Agreement and follow the enclosed instructions.